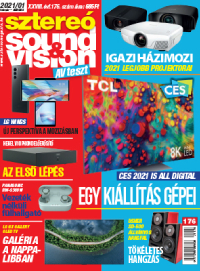 Format:210x280mm
Average pages per100
Circulation15,000
Publishing frequency6 issues per year
Subscription5000 HUF
International subscription€20
Retail price per copy996 HUF MORE INFO
Visit website

Editor-in-chiefRezsö Soltesz
Joined EISA in 1997
Published bySoltész Reklám KFT.
AddressAttila út 101, H-1012 Budapest, Hungary
Phone+36 145 310 40; +36 136 886 88
Email:rezso.soltesz@eisa.eu
In 1994, the young publishing house Soltesz Reklam launched the first consumer electronics magazine in Hungary, Sztereó. In the early days, it only covered audio, but reader demand and the fast developing consumer industry meant widening the editorial concept. However, today it still mainly focuses on audio equipment and loudspeakers. In 1997, Sztereó magazine became a member of EISA's Audio/Home Theater Panel. A year later, Sztereó joined EISA's Video Panel too and started to test video recorders and TV sets on its pages.
The magazine is for people interested in consumer electronics products and provides useful support in the planning of home entertainment, and also gives readers an opportunity to compare the whole range of audio and video products on the market. It offers news, reviews, tests, features, interviews, and some special reports about the most interesting events in the consumer electronics world. Sztereó's readers are mostly males who like the latest technology products and have a big interest in the consumer electronics world.
"The political change in Hungary brought many new perspectives on business life for Soltész Reklám. An important goal was developing the company. Finding a way to form connections in the European Union was another important objective. EISA was the best association for Sztereó and to join this unique European collective was highly fortunate. Since that time, Sztereó has covered the latest technical developments in the CE market and its readers are now the best informed in the country."