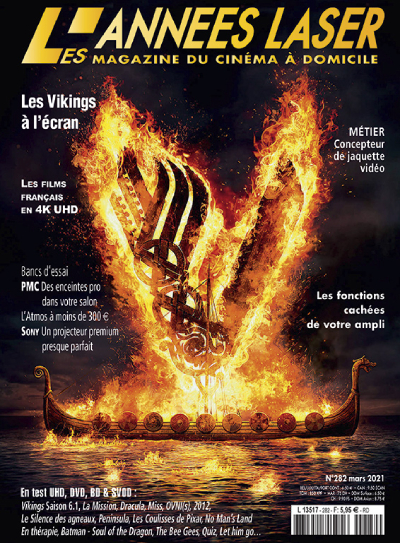 Format:A4
Average pages per112
Circulation50,000
Publishing frequency11 issues + 1 annual guide (4K & Blu-ray)
Subscription€69
International subscription€79
Retail price per copy€5.95 (paper) and/or € 5.75 (digital)
Visit website

Editor-in-chiefGilles Gerin
Joined EISA in 2016
Published byLe 15 du mois SAS
Address20, passage Turquetil, 75011 Paris, France
Phone+33 1 55 25 80 00
Email:gilles.gerin@eisa.eu
Les Années Laser, Magazine du Cinéma à Domicile, is an independent monthly magazine located in Paris, created 26 years ago and still owned by its creators.
The first idea is the one that still remains: be able to provide and advise people so they can get the best sound and image at home, and also to preserve the memory of movies, series, concerts and documentaries on the best support possible (DVD, Blu-ray, Ultra HD Blu-ray).
That idea gave birth to Les Années Laser Magazine, with an average of 112 pages divide into hardware and software information, counting 11 monthly publications per year and 2 annual guides grouping all the DVD and Blu-ray releases.
Les Années Laser Magazine can count on an editorial staff composed by 10 journalists including 3 specialists on hardware as Home-Theater installations, amplifier, loudspeakers, soundbar, TV, video projector… and 7 other specialists on image/sound quality. That's why all the material tests and files are exclusives creations from our magazine's editorial staff.
Having 50 000 printed copies per month, and 30 000 paid circulation copies, you can find the magazine in newsstands, and also you can get it by subscription and digital copies (Apple Store, Google play) all around the world (France, Belgium, Canada, Switzerland, Africa, French West Indies, New-Caledonia…)
We love what we do but we still have a lot of projects, especially in digital editions…
Facebook: Les Années Laser Facebook
Apple Store app: Années Laser (Les)
Google Play: LAL application