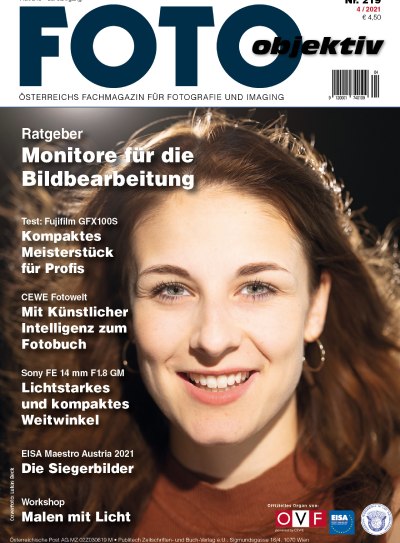 Format:A4
Average pages per68
Circulation7.500
Publishing frequency6 issues per year
Subscription25 €
International subscriptionEurope 40 €, Oversears: 60 €
Retail price per copy4,50 €
Visit website

Editor-in-chiefKlaus Lorbeer
Joined EISA in 1986
Published byPublitech-Zeitschriften- und Buch-Verlag e.U.
AddressSigmundsgasse 16/4, 1070 Wien / Vienna
Phone+43 1 513 32 32
Email:klaus.lorbeer@eisa.eu
In 1983, Gerhard Buchberger, the editor-in-chief of Praktiker, was asked by the photo industry whether the photo-supplement of his magazine could be published as a separate photo magazine. At the time, all attempts to establish a photo magazine in Austria had been unsuccessful. Buchberger developed a concept, and in January 1984, the first issue of FOTOobjektiv was published by Vorwärts-Verlag. Incidentally, the name is a pun in German - it means Photo lens on the one hand, but it also stresses that the magazine is independent, that is 'objektiv'.
In 1986 Vorwärts-Verlag decided to stop publishing many of its magazines and so Mr. Buchberger took over Praktiker and FOTOobjektiv in a management buyout. Around this time, FOTOobjektiv joined EISA, making FOTOobjektiv one of its oldest members. In July 2007 FOTOobjektiv was sold to Klaus Lorbeer, an experienced Austrian journalist specialising in photography and IT. The main target group of FOTOobjektiv is the ambitious amateur photographer, but beginners and professional photographers are also found amongst its readership.
FOTOobjektiv presents award-winning photographs taken by amateur photographers. It also offers hardware reviews, new product news, features on new trends and technologies in photography, an overview of upcoming photographic competitions and six pages of commentary on controversial developments in the photographic arena. On its recently relaunched website, FOTOobjektiv readers can find photographic exhibitions in Austria and create their online photo own gallery. There's also news of about the latest products and naturally the EISA Awards!
"EISA membership is important to FOTOobjektiv because it adds to the credibility of our writing and testing in the eyes of the reader and the industry. Our aim is strengthen this credibility in every new issue."