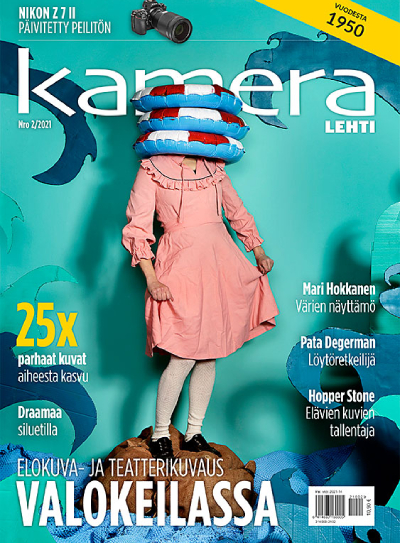 Format:210x297mm
Average pages per76
Circulation8,000
Publishing frequency9 issues per year
Subscription97 €
International subscriptionInternational subscription Nordic & Baltic: 115 €, Other countries: 135 €
Retail price per copy10,90 €
Visit website

Editor-in-chiefKristiina Haaga
Joined EISA in 1985
Published byKamera-lehti, Kameraseura ry.
AddressPakkamestarinkatu 1 A Lt 141, 00520 Helsinki, Finland
Phone00 358 400 802 202
Email:kristiina.haaga@eisa.eu
With 61,000 readers, Kamera-lehti is Finland's biggest and most
important magazine for traditional photo, digital imaging and video.
Kamera-lehti has been combining the art of photography with technology
since 1950. The magazine has a broad readership, ranging from
photo-dealers and professional photographers to those who have an
interest in photography as a hobby. It follows all major developments in
photography and video arenas: testing cameras, scanners, printers and
software applications. Each issue features several competitions as well
as offering other creative challenges to its readers.
"Kamera-lehti has been a member of EISA since 1985. The membership has
helped us to get information straight from manufacturers and to build
close relationships with many experts throughout the world. I also
appreciate very much the possibility of exchanging opinions with my
European colleagues."