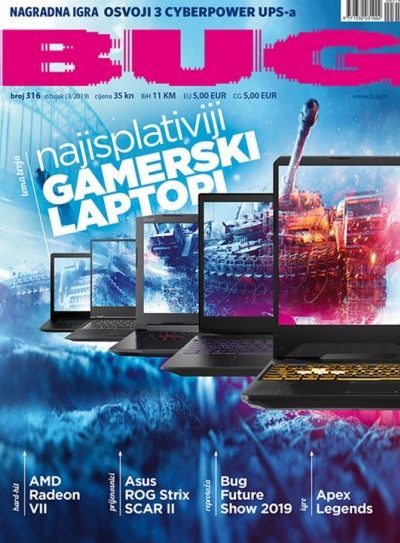 Format:212x282mm
Average pages per156
Circulation30.000
Publishing frequency11 issues per year
Subscription€ 35,59
International subscription€ 53,19
Retail price per copy€ 5,-
Visit website

Editor-in-chiefDragan Petric
Joined EISA in 2014
Published byBug d.o.o.
AddressOgrizoviceva 36A, HR-1000, Zagreb, Croatia
Phone+38 513 821 555
Email:dragan.petric@eisa.eu
Bug is a Croatian monthly tech magazine, established in 1992. Since the beginning, it's been the most popular and therefore most circulated magazine in the country covering new technologies, consumer electronics, telecommunications and IT. The major part of the content is made of in-depth devices reviews, such as smartphones, tablets, notebooks, desktops, computer hardware, digital cameras, mobile gadgets etc. Bug is also covering all the major tech tradeshows in the world, such as IFA, CES or Mobile World Congress. Magazine also includes sections with video games reviews, news, columns,helpdesk, and self-assembly instructions.
Bug is a monthly edition with 11 issues being published each year (each month, with one double summer issue). Each issues had 156 pages with complementary DVD being given to each reader, containing video reviews, Bug TV talk-show, freeware and shareware software collections and computer games demos. Online edition is called Bug Online and it's positioned as no. 1 tech web-site in Croatia with over 1M unique visitors per month (according to Google Analytics). Each month Bug is filming a talk-show, lasting 70 to 80 minutes, with editors and expert guests discussing current tech occurrences and devices. Talk-show is being published on DVD, online (YouTube and Bug Online) and as a video-podcast.
Bug is also producing the only live tech show in the region, called Bug Future Show. It's a one-day event for readers and regional tech community with on-stage live panels, keynotes, video-shows and interviews, accompanied by the exhibition where visitors can try all the new devices and experience them by themselves.
Bug d.o.o. is privately owned company with independent stuff. Both owners and stuff have no relations with the vendors and are priced among readers for their reputation and objectivity, lasting for more than two decades. By becoming member of EISA this reputation got international recognition.