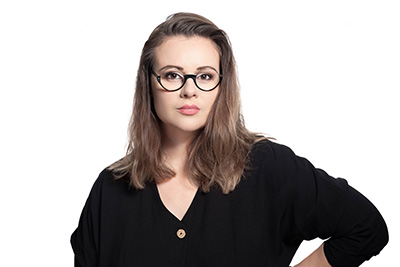 Pauline Petit was born in 1986. She comes from Normandy in France where she lives and works in her studio, called Studio 22. Ever since she was a child, Pauline has been interested in a pursuing artistic careers. That's why she wrote and illustrated a collection of children's books, before becoming a professional photographer in 2007.
In 2019, Pauline developed a multidisciplinary approach to her personal work, combining illustration and painting with photography. She produces humorous scenes with an aesthetic that's influenced strongly by graphic design.
This series, The Graphic Portrait, comprises several dozen tightly framed monochrome portraits presented in square format on a white background. It features imaginary, humorous, and surprising characters who challenge and question us, while making both children and adults laugh. It's designed to be simple and accessible, so it can be appreciated by everyone.Pauline's inspirations come from children's literature and her love of painting and drawing. Presenting a universe that is both childish and light, but also rigorous and precise, she has intelligently combined these two passions to produce images that are halfway between photography and drawing.
Along with all the makeup and hairstyling, she creates the various accessories herself, and then takes the photographs and post-processes them in her studio. And a little reveal: the eight images presented here are all self-portraits. A great example of everything that can be created from a single face!
Website : https://pauline-petit.fr
Instagram : @paulinepetitphotographie