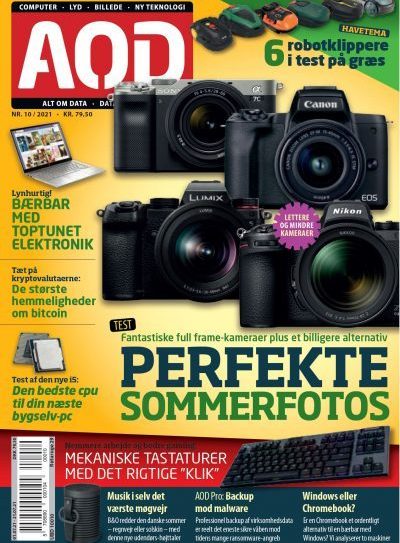 Format:210x297mm
Average pages per68
Circulation14.000
Publishing frequency17 issues per year
Subscription€ 190,-
International subscriptionOn application
Retail price per copy€ 11,-
Visit website

Editor-in-chiefKnud Sondergaard, LL.M
Joined EISA in 2015
Published byAudio Media A/S
AddressBrogaardsvej 22, DK-2820 Gentofte, Denmark / Delivery address: Vingaards Alle 26, DK-2900 Hellerup, Denmark
Phone+45 221 199 40
Email:knud.sondergaard@eisa.eu
Stronger tech magazine
We have created a much stronger magazine, which takes all the best from our publications Alt om DATA and Datatid TechLife, and merge them into Denmark's most exciting special magazine for technology lovers – the target group that we identify as Tech Ambassadors. The name of our new magazine is AOD.
AOD communicates sharply focused, and its content ranges widely, like always ¬− with Denmark's best group tests in every issue, individual product reviews, news, features, advice, insight, new technology and much more.
No less than 17 times a year, readers of AOD are presented with a fresh magazine including Denmark's largest review section. Our staff of dedicated and experienced specialist writers test and evaluate the latest IT equipment, and because of their efforts during our more than 30 years as tech magazine publishers, we have achieved a unique and authoritative position in the Danish market. Our readers benefit from a wide overview of hardware like desktops, laptops, tablets, networking equipment, smartphones and much more for private as well as professional use plus a comprehensive news section. On top of that, we research and produce feature articles that explore and provide insight into new technologies, ranging from motherboards, processors, wireless networks and security to 3D printers, flatscreen TVs and smartphones.
And AOD is much more than a print magazine. Over the years, we have invested heavily into the design, operation and maintenance of AOD.dk, which now has grown to Denmark's largest consumer electronics website!
The figures from the official Danish Online Index illustrate our development from 2018 to 2019. In total, we have moved up to position 61 across all sites in Denmark, against a position as number 79 last year, with the following online traffic specifications:
• 179,126 users per month, a growth of 63,368 (+ 55%)
• 370,580 visits per month, a growth of 95,487 (+ 55%)
• 464,463 pageviews per month, a growth of 125,286 (+ 37%)
• 12,334 daily users per month, a growth of 4,853 (+ 65%)
• Average time on the site: 00:03:06 minutes